---
The Art Work of Andre Du Plessis
---
Our first featured artist is Andre du Plessis. Andre's work is photo-realistic and haunting in places. Contact Andre du Plessis for further details regarding his art works.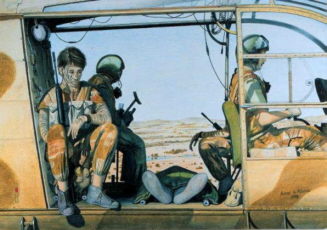 Plaintively titled "Boots" - a Rhodesian soldier has been killed in action and his body is recovered by helicopter. An all too familiar scene as the war progressed.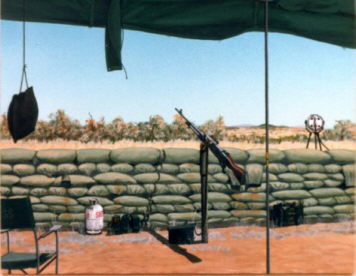 The stark detail of the bunker is superbly captured here. Note the sandbagged defensive wall, the pintle mounted FN-MAG machine gun and spotlight for scouring the bush at night.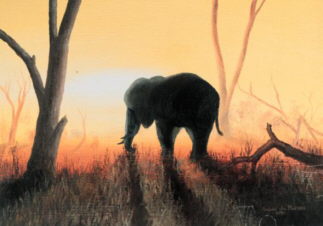 Andre's subtle use of earthy colours brings out the subject of his painting - an elephant grazing along the shoreline at Kariba.
The lush countryside around the Headlands area of Rhodesia forms the subject of this picture.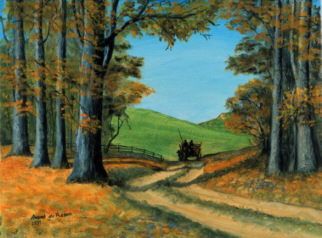 A forested area of some beauty; a lonely rural dirt road and a single donkey cart.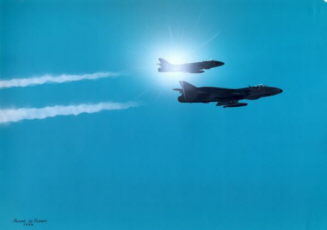 Two Hawker Hunter FGA-9's high in the Mashonaland sky. The Rhodesian Air Force's small fleet of aircraft included a number of classic war birds. With these scarce resources, the Rhodesians maintained air superiority throughout the period of the bush war.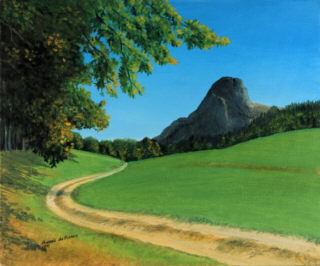 Another rural scene; the rocky granite outcrops of Rhodesia were known by the Dutch term "kopje" (koppie).
A Reims-Cessna F3337 "Lynx" of the Rhodesian Air Force. Acquired surreptitiously in the mid 1970's these aeroplanes were ideally suited to strike actions and served with distinction throughout the war years.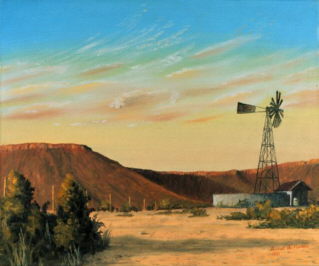 A rural scene with ubiquitous windmill. The Chiredzi area of the Rhodesian Lowveld.
---