---
The Art Work of Cedric Herbert
---
We are very proud to include four works by Cedric Herbert a former member of the Rhodesian Air Force. Contact Cedric Herbert for further details of these paintings.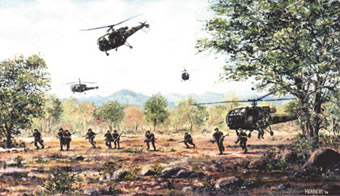 This picture is of 7 Squadron helicopters deplaning RLI troops into the field. This painting was presented to the Warrant Officers and Sergeants Mess at New Sarum as a farewell present when Cedric was commissioned in 1974. He notes, wryly, that the picture was returned to him in 1982 as the Air Force of Zimbabwe NCO's no longer wished to have the painting.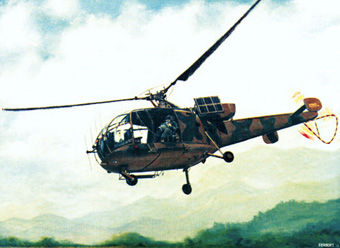 A 7 Squadron Alouette pictured during a photo reconnaissance task in the Manicaland area.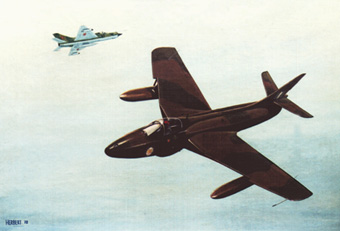 An incident that occurred near Kazungula in the extreme west of Rhodesia. A Rhodesian Air Force Hawker Hunter FGA-9 intercepted an Angolan Air Force Mig-21. The Mig, flown by a Cuban pilot, fled Rhodesian air space when the Hunter pilot fired a warning burst from his 30mm Aden cannon.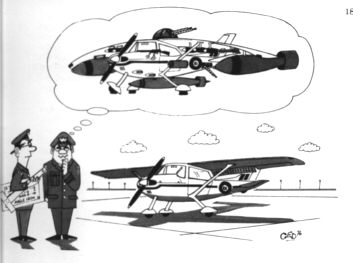 This cartoon was originally published in Paul Moorcraft's Contact II. Here Cedric takes a tongue in cheek look at the ingenuity displayed by Rhodesians as a result of having to make do...

---