---
The Web Master's Christmas Notes
---

2 Hunter FGA9's high over Mashonaland! This stunningly beautiful art work by Andre Du Plessis will be complemented by many others in our January art gallery!
---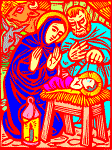 Friends, may you enjoy a truly blessed Christmas and a fine start to the new year in 1998. We had hoped to bring you a Christmas gallery featuring art works by Rhodesians who committed their impressions to canvas. An unforeseen technical hitch has made that impossible. We will, however, be bringing you a bumper art gallery in January, and the site will undergo extensive renovations in the new year to keep the material fresh, relevant and interesting. Please bookmark our site and keep a close watch here in the first week or two in January. In the meantime, all our existing features will be available for you to browse.
The Echoes list serve now has upwards of two dozen members and we invite you to use this list to communicate with us. Chas Lotter monitors the list and will respond to your suggestions and criticisms.
---
back to main page