---
February Art Gallery
---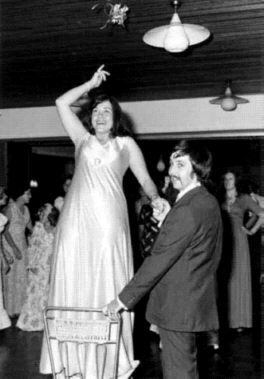 The background to this happy shot of Chas and Avril Lotter on their wedding day, 22 years ago, was a country at war. Too soon, Chas and Avril experienced the realities of increasing military call ups and the disruptions these effected on home life. Their experiences were typical of Rhodesian families in the 1970's.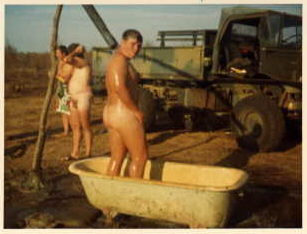 Alastair Honeybun sent us this cheeky (sic) photo. Bathing arrangements were often rudimentary. The ingenuity of the troops was often amazing.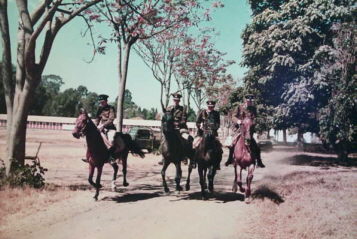 Colin Bewes sent us this fine shot, taken in Morris depot in July 1980. L - R, P/O Judge, P/O Colin Bewes, P/O Craven and P/O Vic Mather. The occasion was the annual Lloyd Lyndsay in which each team of horsemen rode an obstacle course to the shooting range where three of them shot down targets while others held their horses after which they rode back to the start line.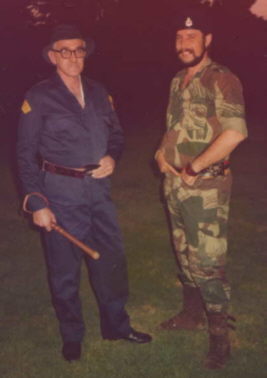 As the war intensified, so the military call up net was cast wider. Even middle aged and elderly men were required to render some form of service. Here Chas Lotter poses with his father - in - law, Les Bushell - a man who served his country as a BSA Police special reservist.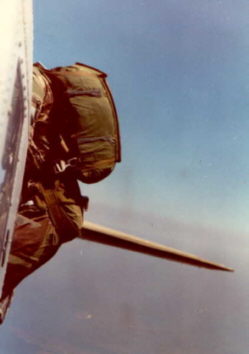 Deon Lemmer's photograph is interesting for a variety of reasons. This seemingly ordinary shot of a Rhodesian paratrooper about to exit an aircraft, was in fact taken in South Africa. Some Rhodesian troops were trained as paratroopers by the South African Defence Force in South Africa . Rhodesian military links with South Africa were always very cordial.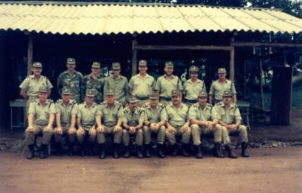 Peter Eckersley gave us this photograph. It is a rare shot of a group of Guard Force cadets and officers. The Guard Force, a separate arm of the Rhodesian security forces distinct from the army, the air force and the police was created to provide key point security. It was headed up by Brigadier Godwin, a former high-ranking Rhodesian Army officer.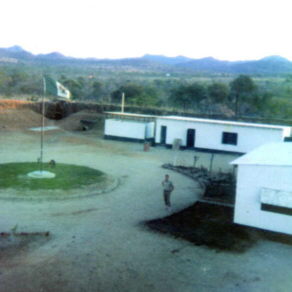 Nigel Innes' photograph is of an Internal Affairs keep. Internal Affairs, originally an arm of government tasked with administrating and serving the population of the rural areas, had to take on an increasing military role in the war.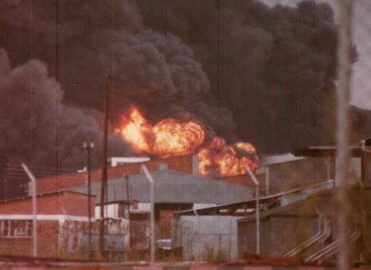 This remarkable photograph was taken by Keith Holshausen. Insurgents attacked the oil depot in Salisbury on December 1978 and sparked a fire that caused significant damage to the oil depot.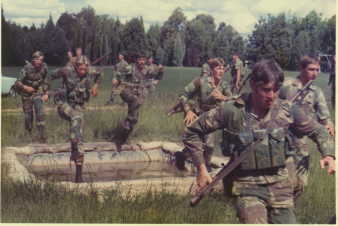 Ross Parker, a member of the Rhodesian Light Infantry, sent this fine picture of RLI soldiers running an assault course. Rhodesian soldiers had to maintain a high overall level of fitness, so constant physical training was an ongoing part of a soldier's life in uniform. Note the .303 Lee-Enfield rifles carried by the soldiers. These were for training purposes only. Only irregular rear echelon troops and men were provided with these W.W.II vintage weapons; most others carried self-loading assault rifles.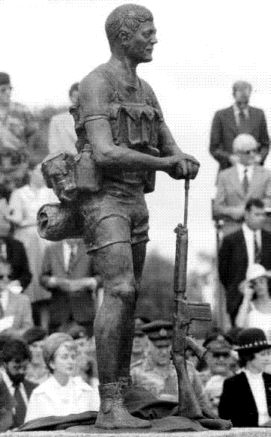 This statue, affectionately known as "The Troopie" was unveiled by Russell Phillips, holder of the Silver Cross of Rhodesia. The statue commemorated RLI fallen and it stood on a plinth in the centre of "holy ground" at the RLI barracks at Cranborne. The statue was spirited out of Zimbabwe shortly after independence. It is now in South Africa.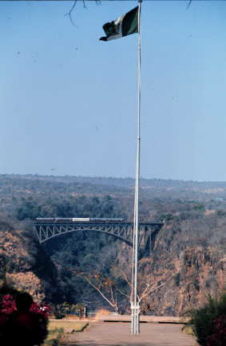 Jan Hamman, official photographer for Die Beeld newspaper in South Africa, gave us this unique photo. It was taken at the Victoria Falls conference between the Rhodesian government delegation and Zimbabwean nationalist politicians in 1974. A train, provided by South Africa, was positioned on the rail bridge with the white carriage (used by the Royal Family during their 1947 tour of Southern Africa) being the venue for the talks. The talks failed and the war intensified almost immediately afterwards.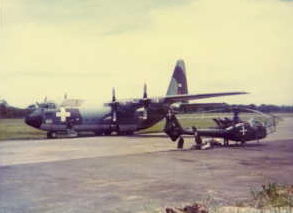 This rare photograph of a RAF C130 Hercules and a gazelle helicopter on the apron at Salisbury airport was taken by Ross Parker shortly after the Commonwealth Monitoring Force arrived in Rhodesia to supervise the cease-fire and elections that led to the creation of Zimbabwe.
---